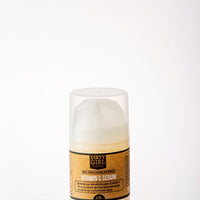 Brighten and rejuvenate your skin with the power of Vitamin C.  
How does it work? Our active vitamin c compounds attack spots of discoloration and start to break it up so that the body can absorb it and flush it away!  With regular use, your skin tone with look more even and freckles will begin to fade or even disappear completely.  ⁠
If you start using vitamin c serum as soon as you notice these problems pop up, the better your chances will be to remove them!⁠
What makes our Vitamin C products so different?
Vitamin C esters!  
Also known as Ascorbic Palmitate.  Ascorbic Palmitate is a fat soluble derivative of vitamin C that is non-irritating and more stable than pure vitamin C.  This powerful yet gentle antioxidant, also makes all of our vitamin c products safe for extra sensitive skin.
This powerful antioxidant is considered to be one of the best weapons in the fight against aging and the appearance of mature skin.  It protects skin from free radicals and oxidation and will brighten and revive any skin type.
This serum is light, easily absorbed, and silky.  Best when used at night.
⁠
Ingredients: organic aloe vera juice, vegetable glycerin, rosehip seed oil, emulsifying wax, vitamin C ester, organic cranberry extract, organic red raspberry extract, organic wild blueberry extract, vitamin e, ascorbic acid (vitamin c), black willowbark extract, rosemary oleoresin, neem oil, teirasodium EDTA, citric acid.
Dirtygirlfarm.com offers FREE Standard Shipping on all U.S. merchandise orders (excluding taxes). Orders over $60 always ship for free—no promotion code needed. Free shipping is available to all U.S. territories on orders over $100 ($50 dollar threshold for Puerto Rico). FREE Standard Shipping orders are processed within 1-3 business days, depending on product availability. We cannot guarantee a date of arrival with our free ship option and orders typically take 1-7 business days to arrive once they have been processed and shipped out. 
We ♡ our planet 🌎
We use biodegradable, non-toxic packing peanuts in EVERY box we ship! These packing peanuts are made from cornstarch and completely dissolve in water.  They can even be safely tossed into your compost pile!
SHOP AROUND
Your product's name
$19.99
Your product's name
$19.99
Your product's name
$19.99
Your product's name
$19.99
Your product's name
$19.99
Your product's name
$19.99
Your product's name
$19.99
Your product's name
$19.99
Your product's name
$19.99
Your product's name
$19.99
Your product's name
$19.99
Your product's name
$19.99
Your product's name
$19.99
Your product's name
$19.99
Your product's name
$19.99
Your product's name
$19.99
Your product's name
$19.99
Your product's name
$19.99
Your product's name
$19.99
Your product's name
$19.99
Your product's name
$19.99
Your product's name
$19.99
Your product's name
$19.99
Your product's name
$19.99