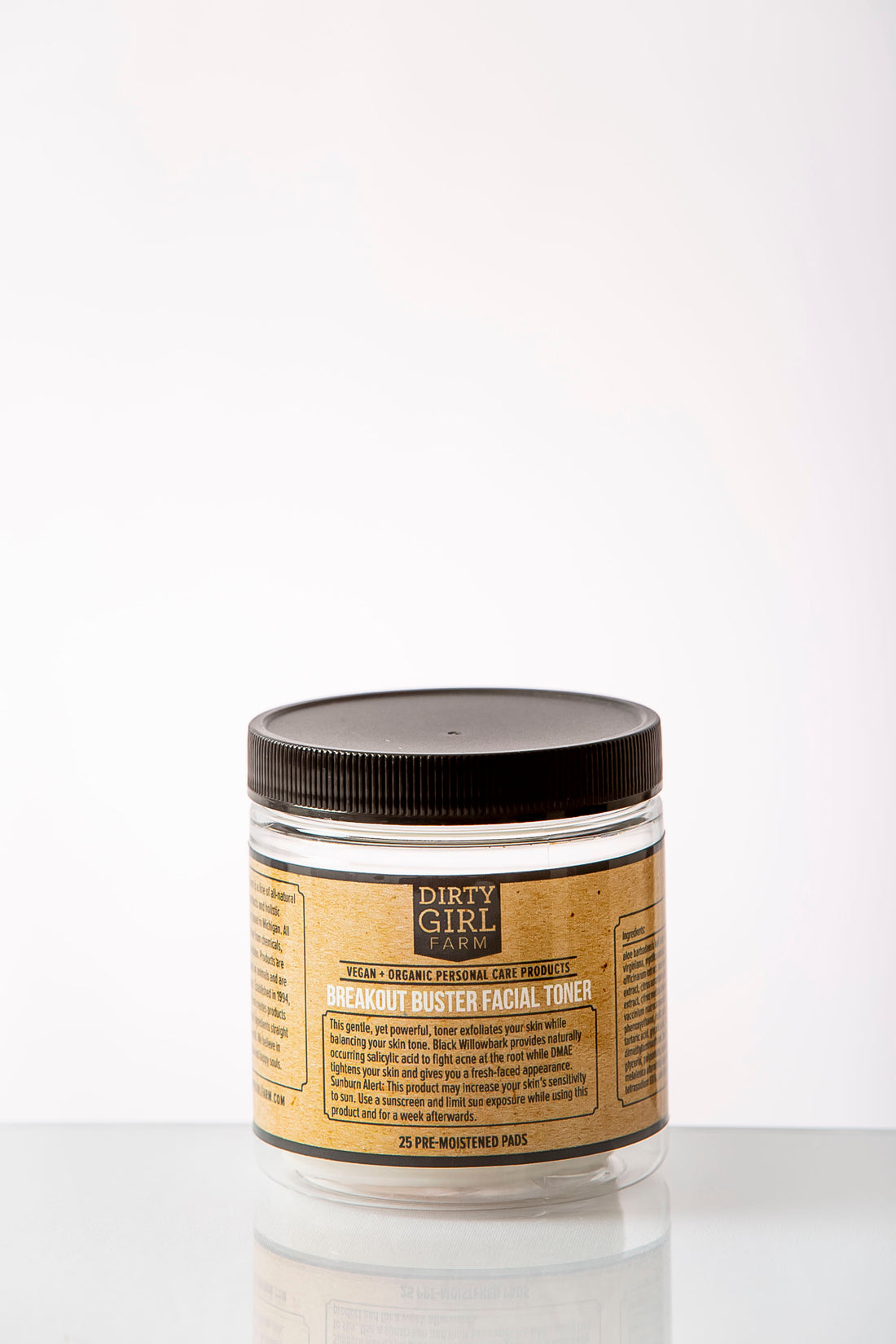 Breakout Buster Facial Toner
This gentle-yet-powerful Breakout Buster Facial Toner exfoliates your skin while balancing your skin tone.
Black Willowbark provides naturally occurring salicylic acid to fight acne at the root while DMAE tightens your skin and gives you a fresh-faced appearance.
Use toner before serum or moisturizer.
Think of it as a glass of water for your skin. Serums and creams can penetrate deeper if your skin is hydrated.
25 pre-moistened pads.
Ingredients: Aloe barbadensis (Organic Aloe) Leaf Juice, Hamamelis virginiana (Witch Hazel), (Vaccinium Myrtillus (Organic Bilberry) Extract, Saccharum officinarum (Organic Sugar Cane) Extract, Acer Saccharinum (Organic Sugar Maple) Extract, Citrus auranium dulcis (Organic Orange) Fruit Extract, Citrus medica limonum (Organic Lemon) Extract, Vaccinium macrocarpon (Organic Cranberry) Extract, Phenoxyethanol, Malic Acid, Citric Acid, Tartaric Acid, Glycolic Acid, Lactic Acid, Dimethlaminoethanol (DMAE Bitartrate ), Kosher Vegetable Glycerin, Polysorbate, Essential Oils, Melaleuca alternifolia (Tea Tree) Essential Oil, Tetrasodium Edta, Salix nigra (Black Willowbark) Extract.
Dirtygirlfarm.com offers FREE Standard Shipping on all U.S. merchandise orders (excluding taxes). Orders over $60 always ship for free—no promotion code needed. Free shipping is available to all U.S. territories on orders over $100 ($50 dollar threshold for Puerto Rico). FREE Standard Shipping orders are processed within 1-3 business days, depending on product availability. We cannot guarantee a date of arrival with our free ship option and orders typically take 1-7 business days to arrive once they have been processed and shipped out. 
We ♡ our planet 🌎
We use biodegradable, non-toxic packing peanuts in EVERY box we ship! These packing peanuts are made from cornstarch and completely dissolve in water.  They can even be safely tossed into your compost pile!
SHOP AROUND
Your product's name
$19.99
Your product's name
$19.99
Your product's name
$19.99
Your product's name
$19.99
Your product's name
$19.99
Your product's name
$19.99
Your product's name
$19.99
Your product's name
$19.99
Your product's name
$19.99
Your product's name
$19.99
Your product's name
$19.99
Your product's name
$19.99
Your product's name
$19.99
Your product's name
$19.99
Your product's name
$19.99
Your product's name
$19.99
Your product's name
$19.99
Your product's name
$19.99
Your product's name
$19.99
Your product's name
$19.99
Your product's name
$19.99
Your product's name
$19.99
Your product's name
$19.99
Your product's name
$19.99