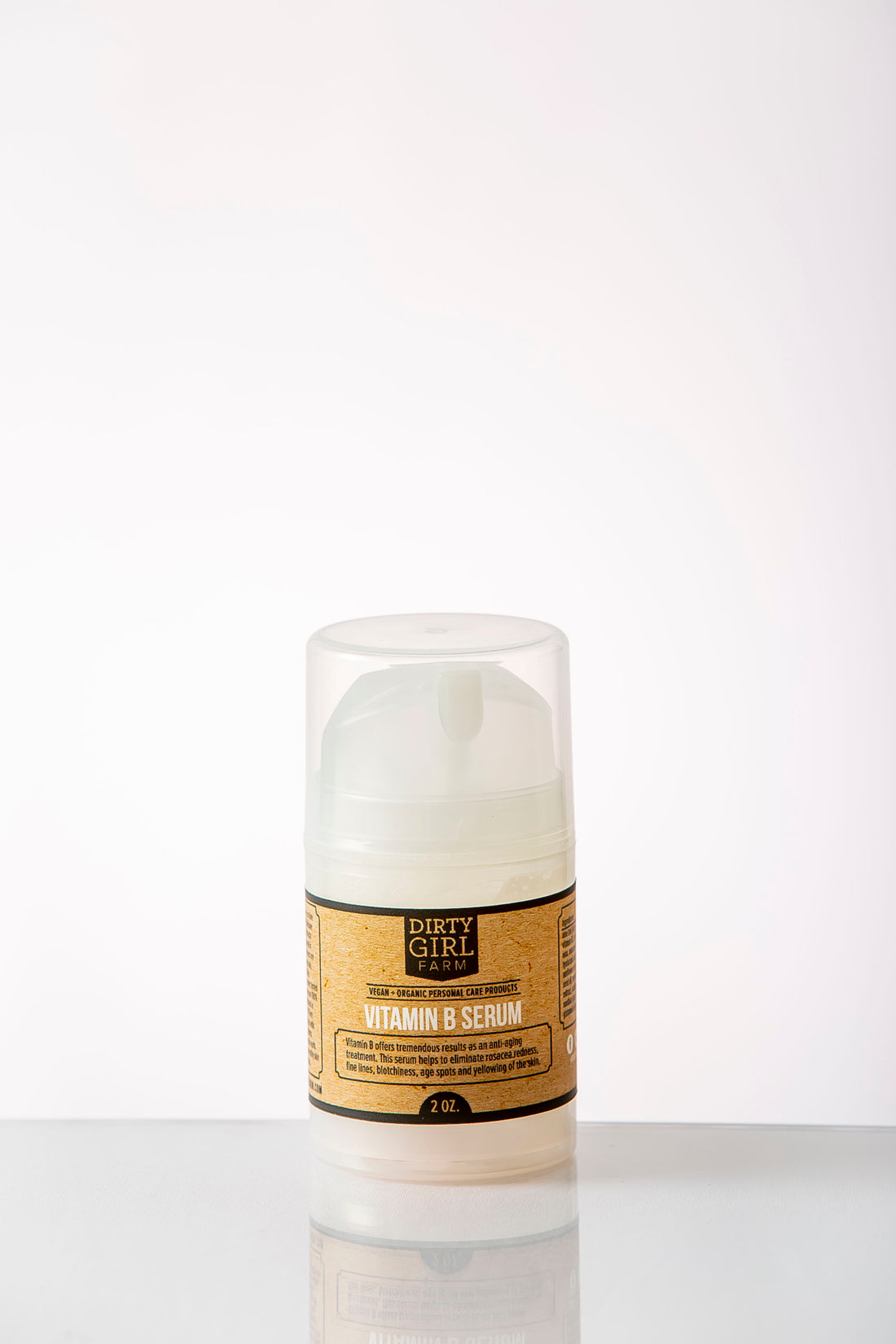 Niacinamide Vitamin B Serum
A potent 5% Niacinamide (Vitamin B3) serum that is lightweight and fast absorbing.  Also contains Hyaluronic Acid for boosted hydration support
Vitamin B3 offers tremendous results as an anti-aging treatment.
This serum helps to eliminate fine lines, blotchiness, age spots and yellowing of the skin. It also re-texturizes rough skin, leaving it smoother and brighter.
Vitamin B3 serum significantly reduces redness and inflammation in conditions such as rosacea, flushing and acne. 
Prior to using your Vitamin B Serum we recommend cleansing your skin with your favorite Dirty Girl Farm toner and sweeping your favorite toner across your skin.  After using your Vitamin B Serum we recommend using an eye cream and a moisturizer.  Weekly you should treat yourself to an at home facial with your favorite Dirty Girl Farm facial scrub and mask.
Ingredients: Organic Aloe Barbadensis (Aloe) Leaf Juice, Glycerin, Niacinamide (Vitamin B3), Cetearyl Alcohol, Polysorbate 60 (Emulsifying Wax), Persea Gratissima (Avocado) Fruit Oil, Phenoxyethanol, Tocopherol (Vitamin E), Hyaluronic Acid, Organic Melia Azadirachta (Neem) Seed Oil, Organic Rosmarinus Officinalis (Rosemary) Leaf Extract, Xanthan Gum, Tetrasodium Glutamate Diacetate
Dirtygirlfarm.com offers FREE Standard Shipping on all U.S. merchandise orders (excluding taxes). Orders over $60 always ship for free—no promotion code needed. Free shipping is available to all U.S. territories on orders over $100 ($50 dollar threshold for Puerto Rico). FREE Standard Shipping orders are processed within 1-3 business days, depending on product availability. We cannot guarantee a date of arrival with our free ship option and orders typically take 1-7 business days to arrive once they have been processed and shipped out. 
We ♡ our planet 🌎
We use biodegradable, non-toxic packing peanuts in EVERY box we ship! These packing peanuts are made from cornstarch and completely dissolve in water.  They can even be safely tossed into your compost pile!
SHOP AROUND
Your product's name
$19.99
Your product's name
$19.99
Your product's name
$19.99
Your product's name
$19.99
Your product's name
$19.99
Your product's name
$19.99
Your product's name
$19.99
Your product's name
$19.99
Your product's name
$19.99
Your product's name
$19.99
Your product's name
$19.99
Your product's name
$19.99
Your product's name
$19.99
Your product's name
$19.99
Your product's name
$19.99
Your product's name
$19.99
Your product's name
$19.99
Your product's name
$19.99
Your product's name
$19.99
Your product's name
$19.99
Your product's name
$19.99
Your product's name
$19.99
Your product's name
$19.99
Your product's name
$19.99