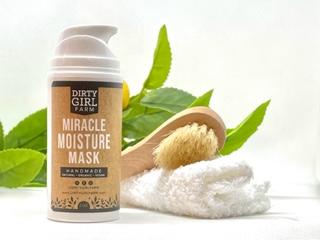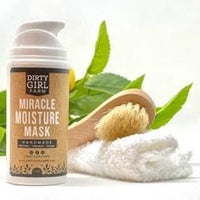 Hyaluronic Acid Moisture Maintenance Mask
Get back to your plump and juicy epidermis with this miracle moisture maintenance mask. Our proprietary formulation of aloe vera juice delivers impressive aquatics in a bioavailable solution directly into your skin cells. Botanical solvents drive moisture repair ingredients directly into the heart of your skin cells. The end result is that you wash away your tired, sallow and shriveled complexion.  Gentle enough for daily use. Perfect as part of a hydrating facial protocol. 
Directions for use: Apply, leave on for a few minutes (up to 30), moisten, and gently rinse to remove. Safe and gentle enough for daily use. 
Ingredients: Aqua (Water), Aloe Barbadensis Leaf Juice (Organic Aloe), Glycerin (Kosher, Vegetable), Cassia Angustifolia Seed Extract (botanical hyaluronic acid), Rosa Canina Fruit Oil (Organic Rosehip Seed Oil), Simmondsia Chinensis Seed Oil (Organic Jojoba), Panthenol (Vitamin B5), Boswellia Serrata Oil (Frankincense Essential Oil),  Avena Sativa Seed Extract (Organic Oat Extract), Sodium Pca, Sodium Lactate, Arginine, Aspartic Acid, Glycine, Alanine, Serine, Valine, Isoleucine, Proline, Threonine, Histidine, Phenylalanine, Centella Asiatica Extract (Organic Gotu Kola), Equisetum Arvense Extract (Horsetail), Geranium Maculatum Extract (Wild Geranium), Taraxacum Officinale Extract (Dandelion), Carrageenan, Acrylates Copolymer, Hydroxyethyl Ethylcellulose, Potassium Sorbate, Sodium Benzoate, Ethylhexylglycerin. 
Dirtygirlfarm.com offers FREE Standard Shipping on all U.S. merchandise orders (excluding taxes). Orders over $60 always ship for free—no promotion code needed. Free shipping is available to all U.S. territories on orders over $100 ($50 dollar threshold for Puerto Rico). FREE Standard Shipping orders are processed within 1-3 business days, depending on product availability. We cannot guarantee a date of arrival with our free ship option and orders typically take 1-7 business days to arrive once they have been processed and shipped out. 
We ♡ our planet 🌎
We use biodegradable, non-toxic packing peanuts in EVERY box we ship! These packing peanuts are made from cornstarch and completely dissolve in water.  They can even be safely tossed into your compost pile!
SHOP AROUND
Your product's name
$19.99
Your product's name
$19.99
Your product's name
$19.99
Your product's name
$19.99
Your product's name
$19.99
Your product's name
$19.99
Your product's name
$19.99
Your product's name
$19.99
Your product's name
$19.99
Your product's name
$19.99
Your product's name
$19.99
Your product's name
$19.99
Your product's name
$19.99
Your product's name
$19.99
Your product's name
$19.99
Your product's name
$19.99
Your product's name
$19.99
Your product's name
$19.99
Your product's name
$19.99
Your product's name
$19.99
Your product's name
$19.99
Your product's name
$19.99
Your product's name
$19.99
Your product's name
$19.99