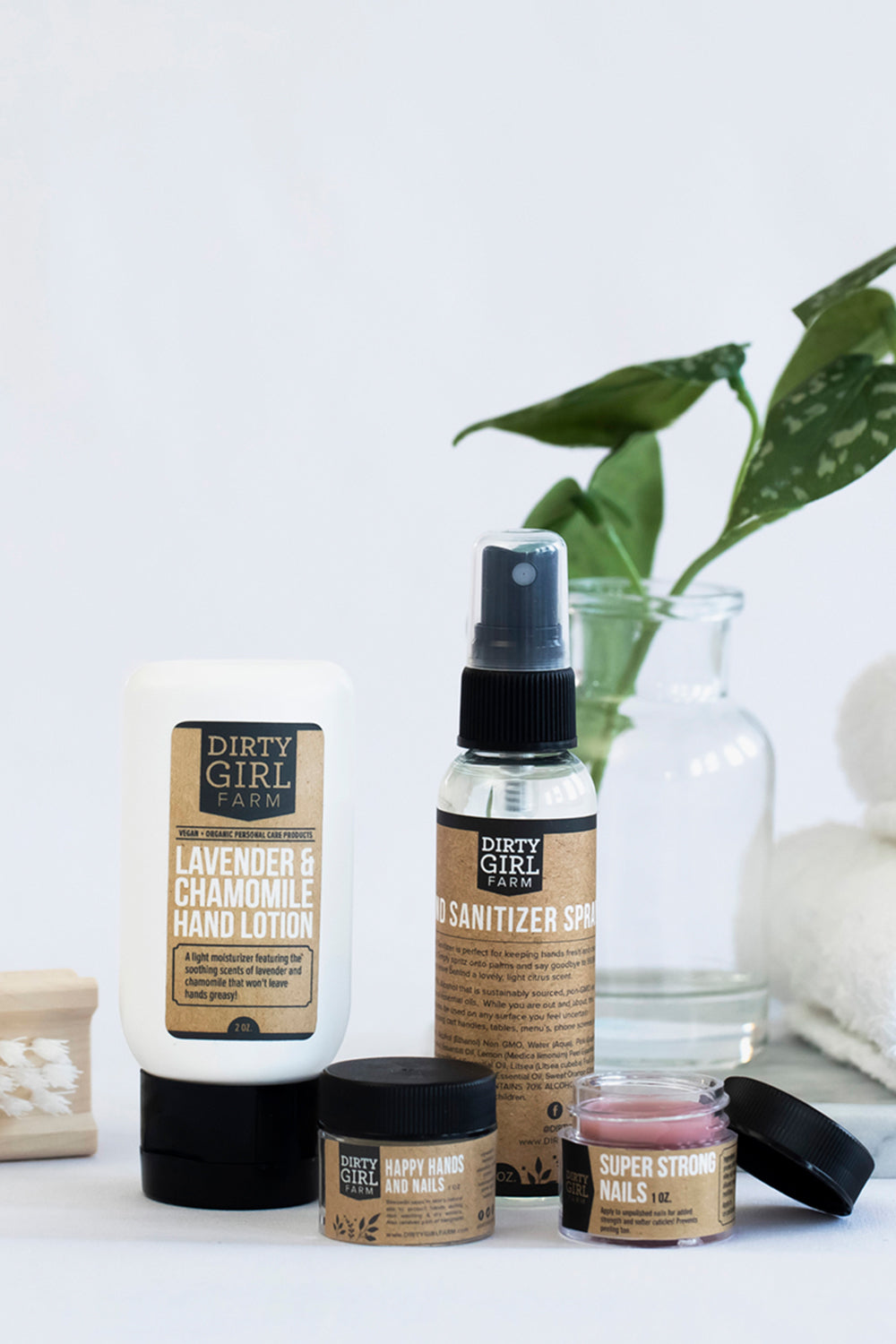 LAVENDER AND CHAMOMILE HAND LOTION:
A light moisturizer featuring the soothing scents of lavender and chamomile flowers that won't leave hands greasy!
Created from sunny sunflower oil which acts like the skin's own natural oil, or sebum, sunflower oil is an emollient, meaning it adds hydration and smooths. That makes it a perfect moisturizer as it helps skin to retain water.  
Sunflower oil is rich in vitamin E, a protective antioxidant. It also contains vitamin A, vitamin C, vitamin K and vitamin D, which help to fight the free radicals that can cause premature aging.
Sunflower oil is gentle, soothing and calming to the skin.
Ingredients: water, caprylic acid, helianthus annus seed oil, tocopherol, aloe barbadensis leaf juice, lavender extract, chamomile extract, cetearyl alcohol, tocopherol acetate.
HAND SANITIZER SPRAY:
Our Hand Sanitizer is perfect for keeping hands fresh and clean on the go. Simply spritz onto palms and say goodbye to 99.9% of germs and leave behind a lovely, light citrus scent. 
We use 70% Alcohol that is sustainably sourced, non-GMO and 100% natural essential oils.  While you are out and about, this spray can also be used on any surface you feel uncertain about-shopping cart handles, tables, menu's, phone screens etc.
Ingredients: Alcohol (Ethanol) Non GMO, Water (Aqua), Pink Grapefruit (Citrus paradisi) Essential Oil, Lemon (Medica limonum) Peel Essential Oil, Lime (Citrus aurantifolia) Essential Oil, Litsea (Litsea cubeba) Fruit Essential Oil, Mandarin (Citrus reticulata) Essential Oil, Sweet Orange (Citrus aurantium dulcis) Essential Oil.  CONTAINS 70% ALCOHOL.  For external use only, keep out of the reach of children.
SUPER STRONG NAILS

:


Apply Super Strong Nails to unpolished nails for added strength and softer cuticles! This organic salve also prevents nails from peeling.

Ingredients: Prunus dulcis (Sweet Almond) oil, olive oil, horsetail, alkanet root, StellApis mellifera (beeswax)



HAPPY HANDS AND NAILS:
Beeswax seals in skins natural oils to protect hands during dish washing and dry winters.  Happy Hands and Nails also relieves pain from hangnails!
Ingredients: Malaleuca alternifolia (tea tree), Cocos nucifera (coconut oil), Butyrospermum parkii (shea butter), Apis mellifera (beeswax)
Dirtygirlfarm.com offers FREE Standard Shipping on all U.S. merchandise orders (excluding taxes). Orders over $60 always ship for free—no promotion code needed. Free shipping is available to all U.S. territories on orders over $100 ($50 dollar threshold for Puerto Rico). FREE Standard Shipping orders are processed within 1-3 business days, depending on product availability. We cannot guarantee a date of arrival with our free ship option and orders typically take 1-7 business days to arrive once they have been processed and shipped out. 
We ♡ our planet 🌎
We use biodegradable, non-toxic packing peanuts in EVERY box we ship! These packing peanuts are made from cornstarch and completely dissolve in water.  They can even be safely tossed into your compost pile!
SHOP AROUND
Your product's name
$19.99
Your product's name
$19.99
Your product's name
$19.99
Your product's name
$19.99
Your product's name
$19.99
Your product's name
$19.99
Your product's name
$19.99
Your product's name
$19.99
Your product's name
$19.99
Your product's name
$19.99
Your product's name
$19.99
Your product's name
$19.99
Your product's name
$19.99
Your product's name
$19.99
Your product's name
$19.99
Your product's name
$19.99
Your product's name
$19.99
Your product's name
$19.99
Your product's name
$19.99
Your product's name
$19.99
Your product's name
$19.99
Your product's name
$19.99
Your product's name
$19.99
Your product's name
$19.99