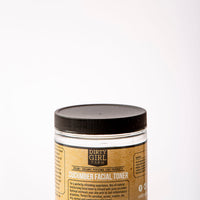 Cucumber (cooling) Toner Pads
Formulated using pure, antioxidant-rich Cucumber Distillate, which smells exactly like a freshly-cut cucumber. A refreshing toner that balances and calms, providing the soothing, cooling, redness reducing and rejuvenating benefits of cucumber.  Comes in convenient pre-soaked pads to swipe over face. 
Especially healing for Irritation from mask wearing or maskne.  
How to use:
Using a toner/astringent is an important step in any serious skin care regime to help balance the skin's pH after the use of unbalancing cleansers and washes. After cleansing the face, apply a moderate amount of toner/astringent to a cotton pad and gently apply all over the face in upward motions. Allow to dry, and follow with serum/moisturizer of choice.
Ingredients:Organic Aloe Leaf Juice (Aloe Barbadensis), Cucumber Fruit Water (Cucumis Sativus), Phenoxyethanol, Witch Hazel Water (Hamamelis Virginiana), Glycerin, Organic White Willow Bark Extract (Salix Alba), Tea Tree Leaf Oil (Melaleuca Alternifolia), Polysorbate 20, Tetrasodium Glutamate Diacetate
Dirtygirlfarm.com offers FREE Standard Shipping on all U.S. merchandise orders (excluding taxes). Orders over $60 always ship for free—no promotion code needed. Free shipping is available to all U.S. territories on orders over $100 ($50 dollar threshold for Puerto Rico). FREE Standard Shipping orders are processed within 1-3 business days, depending on product availability. We cannot guarantee a date of arrival with our free ship option and orders typically take 1-7 business days to arrive once they have been processed and shipped out. 
We ♡ our planet 🌎
We use biodegradable, non-toxic packing peanuts in EVERY box we ship! These packing peanuts are made from cornstarch and completely dissolve in water.  They can even be safely tossed into your compost pile!
SHOP AROUND
Your product's name
$19.99
Your product's name
$19.99
Your product's name
$19.99
Your product's name
$19.99
Your product's name
$19.99
Your product's name
$19.99
Your product's name
$19.99
Your product's name
$19.99
Your product's name
$19.99
Your product's name
$19.99
Your product's name
$19.99
Your product's name
$19.99
Your product's name
$19.99
Your product's name
$19.99
Your product's name
$19.99
Your product's name
$19.99
Your product's name
$19.99
Your product's name
$19.99
Your product's name
$19.99
Your product's name
$19.99
Your product's name
$19.99
Your product's name
$19.99
Your product's name
$19.99
Your product's name
$19.99