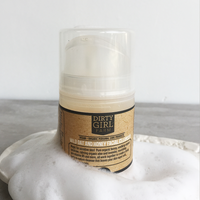 Wild Oat and Honey Facial Cleanser
Wild Oat and Honey Facial Cleanser is an extremely gentle, yet deep cleansing gel that calms redness in a flash! Soothing oat and organic honey makes this cleanser perfect for all skin types!  We recommend adding your favorite Dirty Girl Farm toner, serum, eye cream and moisturizer.  Don't forget to do your weekly at home facial by adding a scrub and mask.
Ingredients: Organic Aloe Leaf Juice, Cocamidopropyl Betaine, Sodium Coco-Glucoside Tartrate, Disodium Coco-Glucoside Citrate, Phenoxyethanol, Organic Lavender Flower Water, Organic Oatstraw Extract, Glycerin, Organic Honey, Hydrolyzed Wheat Protein, Provitamin B5, Vitamin E, Soybean Oil, Organic Alcohol, Xanthan Gum, Tetrasodium Glutamate Diacetate.
Dirtygirlfarm.com offers FREE Standard Shipping on all U.S. merchandise orders (excluding taxes). Orders over $60 always ship for free—no promotion code needed. Free shipping is available to all U.S. territories on orders over $100 ($50 dollar threshold for Puerto Rico). FREE Standard Shipping orders are processed within 1-3 business days, depending on product availability. We cannot guarantee a date of arrival with our free ship option and orders typically take 1-7 business days to arrive once they have been processed and shipped out. 
We ♡ our planet 🌎
We use biodegradable, non-toxic packing peanuts in EVERY box we ship! These packing peanuts are made from cornstarch and completely dissolve in water.  They can even be safely tossed into your compost pile!
SHOP AROUND
Your product's name
$19.99
Your product's name
$19.99
Your product's name
$19.99
Your product's name
$19.99
Your product's name
$19.99
Your product's name
$19.99
Your product's name
$19.99
Your product's name
$19.99
Your product's name
$19.99
Your product's name
$19.99
Your product's name
$19.99
Your product's name
$19.99
Your product's name
$19.99
Your product's name
$19.99
Your product's name
$19.99
Your product's name
$19.99
Your product's name
$19.99
Your product's name
$19.99
Your product's name
$19.99
Your product's name
$19.99
Your product's name
$19.99
Your product's name
$19.99
Your product's name
$19.99
Your product's name
$19.99