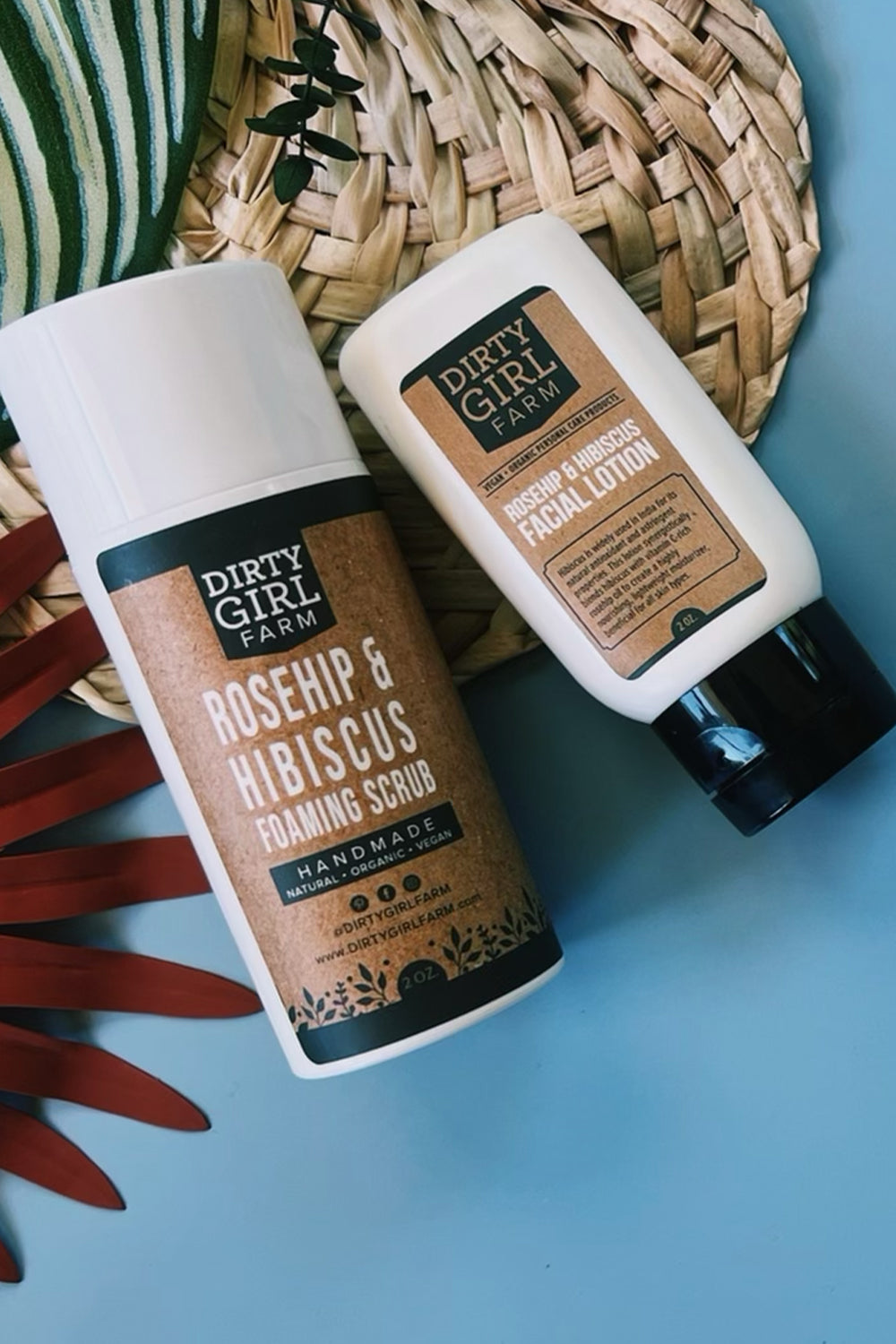 ROSEHIP AND HIBISCUS LOTION
A perfect synergy between vitamin C rich Rosehip Oil and Hibiscus Extract, creating powerful toning and smoothing effects.  Added MSM aka organic sulfur, the beauty mineral.  Sulfur lives primarily in our skin, muscles and bones. Wrinkles are caused by a lack of sulfur!
This lotion is super soothing and intensely hydrating, yet never feeling heavy on the skin.  

Also a great season-change helper!
An Ayurvedic skin care lotion that is especially useful for skin changes during the change of seasons when your skin may do crazy things...like all of a sudden breaking out when, you never break out!  Or over-reacting to the warmer weather by becoming super oily, when you've never been an oily person!
Ingredients: aloe leaf juice, coconut oil, rosehip seed oil, glycerin, emulsifying wax, stearic acid, vitamin E, sunflower seed oil, neem seed oil, rosemary leaf extract, hibiscus flower extract, DMAE bitartrate, MSM, provitamin A, vitamin B3, provitamin B5, vitamin C ester, xanthan gum, alcohol, tetrasodium 
ROSEHIP AND HIBISCUS FOAMING SCRUB
Hibiscus petals crushed into this scrub release potent active vitamin C to eliminate inflammation from the sun and free radical exposure for the elimination of cellular breakdown and aging skin. The natural oils of the hibiscus petals soothe and nourish tired skin and increase cellular permeability for detoxification and nutrient absorption. This sugar-based organic aloe vera surfactant scrub is a gentle and effective exfoliant for speeding cellular turnover, smoothing complexions, clearing debris from pores, and refining skin tone, color, and texture. Tightens and brightens without stripping the skin's natural oils. Active ingredients nourish the dermal layers of the skin and boost collagen production. 
Safe for daily use.
Directions for Use: Can be used on the face and/or body. Apply to hands, sponge, or cloth, moisten with water and rub the skin in small circular motions.  Allow to sit for a few moments.  Rinse skin or remove with cool washcloth.  Avoid delicate eye area.  Follow with any of our toners then lotions or creme.
Ingredients: Aloe Barbadensis Leaf Juice (Organic Aloe), Aqua (Deionized Water), Dimethyl Sulfone (Msm), Decyl Glucoside, Jojoba Esters, Cocamidopropyl Betaine (Surfactant), Cocamidopropyl Hydroxysultaine, Carrageenan, Simmondsia Chinensis Seed Oil (Organic Jojoba), Olea Europaea Fruit Oil (Organic Olive), Borago Officinalis Seed Oil (Borage), Rosa Canina Fruit Oil (Organic Rosehip Seed), Tocopheryl Acetate (Vitamin E), Glycolic Acid, Arctium Lappa Root Extract (Burdock Root), Calendula Officinalis Extract (Organic Caluendula), Citrus Grandis Seed Extract (Grapefruit Seed), Rosmarinus Officinalis Extract (Organic Rosemary), Salix Alba Bark Extract (Willow Bark), Trifolium Pratense Leaf Extract (Red Clover), Citrus Aurantium Dulcis Peel Extract (Sweet Orange), Origanum Vulgare Extract (Oregano), Melaleuca Alternifolia Leaf Oil (Tea Tree Essential Oil), Olea Europaea Seed Powder (Olive Exfoliant), Lavandula Angustifolia Water (Lavender Hydrosol), Hibiscus Rosa-Sinensis Flower Powder (Hibiscus), Cocamide Mipa, Disodium Laureth Sulfosuccinate, Disodium Lauryl Sulfosuccinate, Thioctic Acid, Carbomer, Hydroxyethyl Cellulose, Phenoxyethanol (Preservative), Ethylhexylglycerin (Preservative)
Dirtygirlfarm.com offers FREE Standard Shipping on all U.S. merchandise orders (excluding taxes). Orders over $60 always ship for free—no promotion code needed. Free shipping is available to all U.S. territories on orders over $100 ($50 dollar threshold for Puerto Rico). FREE Standard Shipping orders are processed within 1-3 business days, depending on product availability. We cannot guarantee a date of arrival with our free ship option and orders typically take 1-7 business days to arrive once they have been processed and shipped out. 
We ♡ our planet 🌎
We use biodegradable, non-toxic packing peanuts in EVERY box we ship! These packing peanuts are made from cornstarch and completely dissolve in water.  They can even be safely tossed into your compost pile!
SHOP AROUND
Your product's name
$19.99
Your product's name
$19.99
Your product's name
$19.99
Your product's name
$19.99
Your product's name
$19.99
Your product's name
$19.99
Your product's name
$19.99
Your product's name
$19.99
Your product's name
$19.99
Your product's name
$19.99
Your product's name
$19.99
Your product's name
$19.99
Your product's name
$19.99
Your product's name
$19.99
Your product's name
$19.99
Your product's name
$19.99
Your product's name
$19.99
Your product's name
$19.99
Your product's name
$19.99
Your product's name
$19.99
Your product's name
$19.99
Your product's name
$19.99
Your product's name
$19.99
Your product's name
$19.99