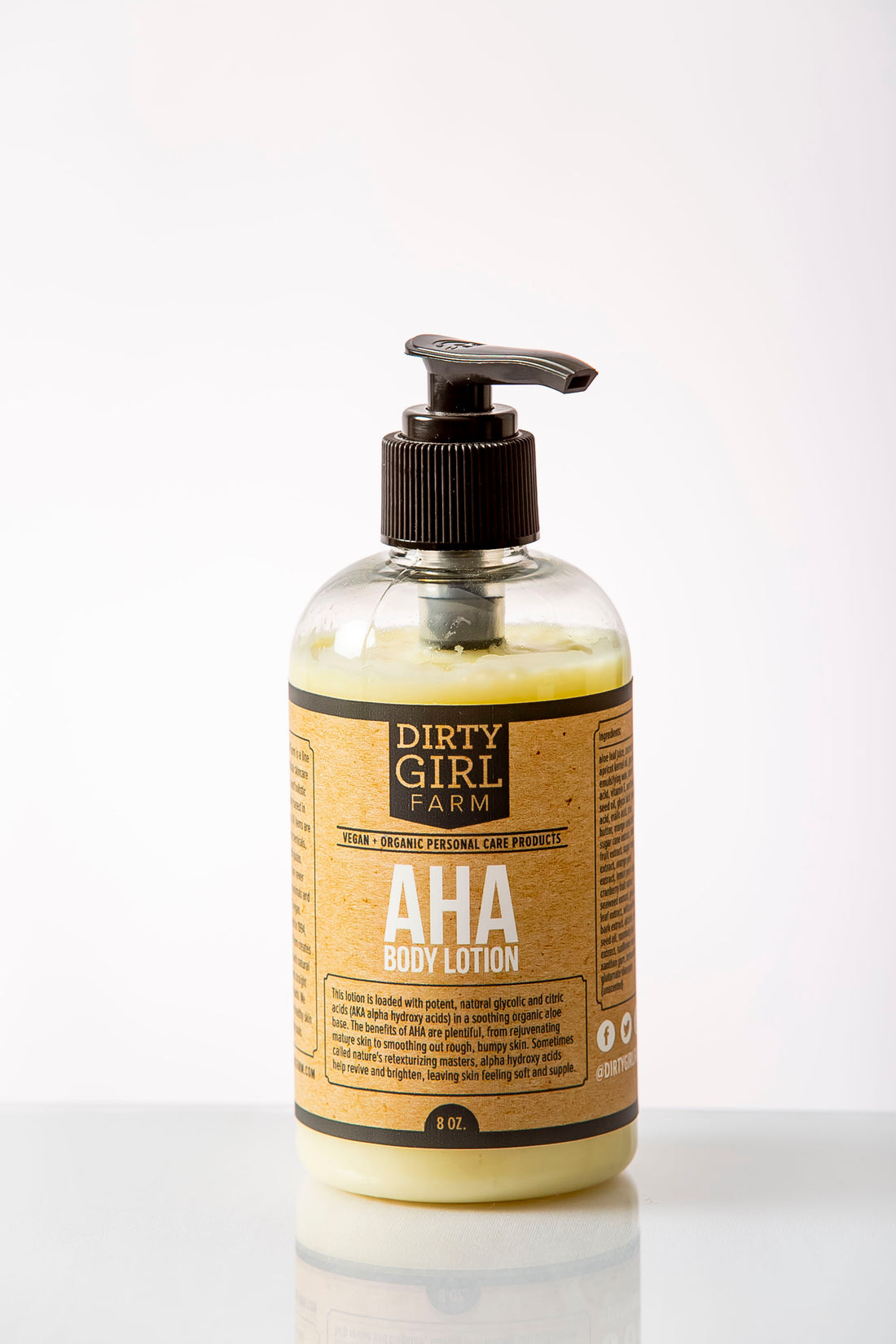 This lotion is loaded with potent, natural glycolic and citric acids (AKA alpha hydroxy acids) in a soothing organic aloe base. The benefits of AHA are plentiful, from rejuvenating mature skin to smoothing out rough, bumpy skin. Sometimes called nature's retexturizing masters, alpha hydroxy acids help revive and brighten, leaving skin feeling soft and supple.  Can be used all over body, face, hands and feet.  Apply AM/PM for best results.
Ingredients: Organic Aloe Leaf Juice, Organic Coconut Oil, Apricot Kernel Oil, Glycerin, Emulsifying Wax, Stearic Acid, Vitamin E, Sunflower Seed Oil, Glycolic Acid, Tartaric Acid, Malic Acid, Organic Shea Butter, Mango Seed Butter, Organic Sugar Cane Extract, Organic Bilberry Fruit Extract, Organic Sugar Maple Extract, Organic Orange Peel Extract, Organic Lemon Peel Extract, Organic Cranberry Fruit Extract, Organic Seaweed Extract, Organic Green Tea Leaf Extract, Organic White Willow Bark Extract, Organic Alcohol, Organic Neem Seed Oil, Organic Rosemary Leaf Extract, Organic Sunflower Seed Oil, Xanthan Gum, Tetrasodium Glutamate Diacetate (unscented).
Dirtygirlfarm.com offers FREE Standard Shipping on all U.S. merchandise orders (excluding taxes). Orders over $60 always ship for free—no promotion code needed. Free shipping is available to all U.S. territories on orders over $100 ($50 dollar threshold for Puerto Rico). FREE Standard Shipping orders are processed within 1-3 business days, depending on product availability. We cannot guarantee a date of arrival with our free ship option and orders typically take 1-7 business days to arrive once they have been processed and shipped out. 
We ♡ our planet 🌎
We use biodegradable, non-toxic packing peanuts in EVERY box we ship! These packing peanuts are made from cornstarch and completely dissolve in water.  They can even be safely tossed into your compost pile!
SHOP AROUND
Your product's name
$19.99
Your product's name
$19.99
Your product's name
$19.99
Your product's name
$19.99
Your product's name
$19.99
Your product's name
$19.99
Your product's name
$19.99
Your product's name
$19.99
Your product's name
$19.99
Your product's name
$19.99
Your product's name
$19.99
Your product's name
$19.99
Your product's name
$19.99
Your product's name
$19.99
Your product's name
$19.99
Your product's name
$19.99
Your product's name
$19.99
Your product's name
$19.99
Your product's name
$19.99
Your product's name
$19.99
Your product's name
$19.99
Your product's name
$19.99
Your product's name
$19.99
Your product's name
$19.99