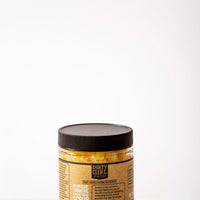 Ayurvedic Turmeric and Neem Facial Scrub
Turmeric, a long used herb in Ayurvedic (Indian) skin care, has naturally occurring anti-inflammatory, antibacterial and anti-microbial properties that make the skin glow. Neem helps heal active blemishes, so this scrub works well for people with acne-prone skin. It is also a key player in any anti-aging skincare regimen. AND (if all that wasn't enough) the pink grapefruit essential oil in Ayurvedic Turmeric and Neem Facial Scrub will help decrease fluid retention, so say see ya to those puffy bags under your eyes! Ayurvedic Turmeric and Neem Facial Scrub works for nearly every skin type! Use with caution if you have highly sensitive skin.
This product was featured in Yoga Journal!
Ingredients:Turmeric, mustard, neem, sea salt, pink grapefruit essential oil, olive oil, jojoba oil, rosemary oleoresin.
Dirtygirlfarm.com offers FREE Standard Shipping on all U.S. merchandise orders (excluding taxes). Orders over $60 always ship for free—no promotion code needed. Free shipping is available to all U.S. territories on orders over $100 ($50 dollar threshold for Puerto Rico). FREE Standard Shipping orders are processed within 1-3 business days, depending on product availability. We cannot guarantee a date of arrival with our free ship option and orders typically take 1-7 business days to arrive once they have been processed and shipped out. 
We ♡ our planet 🌎
We use biodegradable, non-toxic packing peanuts in EVERY box we ship! These packing peanuts are made from cornstarch and completely dissolve in water.  They can even be safely tossed into your compost pile!
SHOP AROUND
Your product's name
$19.99
Your product's name
$19.99
Your product's name
$19.99
Your product's name
$19.99
Your product's name
$19.99
Your product's name
$19.99
Your product's name
$19.99
Your product's name
$19.99
Your product's name
$19.99
Your product's name
$19.99
Your product's name
$19.99
Your product's name
$19.99
Your product's name
$19.99
Your product's name
$19.99
Your product's name
$19.99
Your product's name
$19.99
Your product's name
$19.99
Your product's name
$19.99
Your product's name
$19.99
Your product's name
$19.99
Your product's name
$19.99
Your product's name
$19.99
Your product's name
$19.99
Your product's name
$19.99