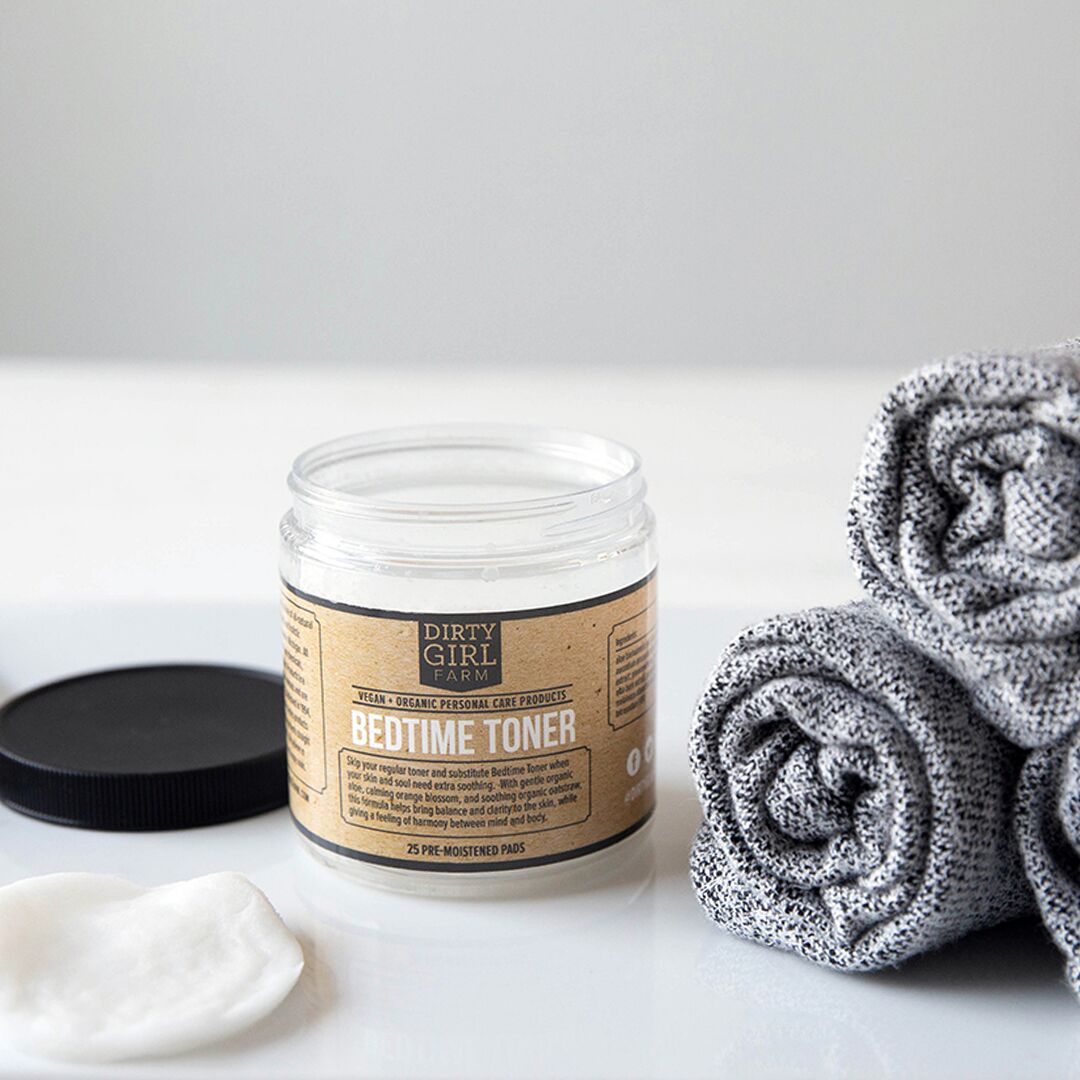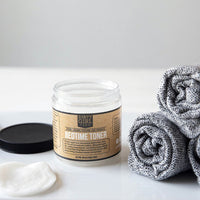 Did you know that sleep is one of the best ways to nourish your skin? 
Our Bedtime Toner features gentle organic aloe, calming orange blossom, and soothing organic oatstraw. This formula helps bring balance and clarity to the skin. 
These sleep nourishing herbs and will prep your skin for night-time serum application and SLEEP. Think of this toner as a good night kiss for your face!
Use toner before serum or moisturizer.
Think of it as a glass of water for your skin. Serums and creams can penetrate deeper if your skin is hydrated.
Toners help the skin by balancing the pH, minimizing the look of pores, removing residuals missed during cleansing and preparing the skin to receive the serums and moisturizers to come.
Ingredients: aloe barbadensis leaf juice, citrus aurantium amara distillate, avena sativa extract, phenoxyethanol, glycerin, salix alba bark extract, polysorbate, melaleuca alternifolia leaf essential oil, tetrasodium EDTA
Dirtygirlfarm.com offers FREE Standard Shipping on all U.S. merchandise orders (excluding taxes). Orders over $60 always ship for free—no promotion code needed. Free shipping is available to all U.S. territories on orders over $100 ($50 dollar threshold for Puerto Rico). FREE Standard Shipping orders are processed within 1-3 business days, depending on product availability. We cannot guarantee a date of arrival with our free ship option and orders typically take 1-7 business days to arrive once they have been processed and shipped out. 
We ♡ our planet 🌎
We use biodegradable, non-toxic packing peanuts in EVERY box we ship! These packing peanuts are made from cornstarch and completely dissolve in water.  They can even be safely tossed into your compost pile!
SHOP AROUND
Your product's name
$19.99
Your product's name
$19.99
Your product's name
$19.99
Your product's name
$19.99
Your product's name
$19.99
Your product's name
$19.99
Your product's name
$19.99
Your product's name
$19.99
Your product's name
$19.99
Your product's name
$19.99
Your product's name
$19.99
Your product's name
$19.99
Your product's name
$19.99
Your product's name
$19.99
Your product's name
$19.99
Your product's name
$19.99
Your product's name
$19.99
Your product's name
$19.99
Your product's name
$19.99
Your product's name
$19.99
Your product's name
$19.99
Your product's name
$19.99
Your product's name
$19.99
Your product's name
$19.99