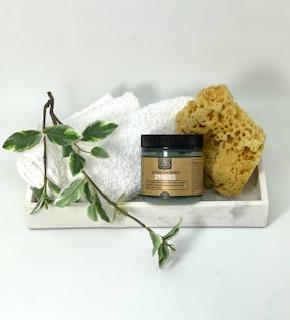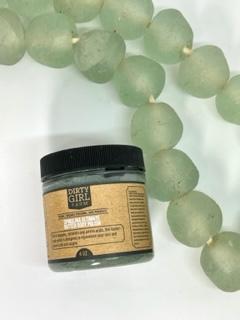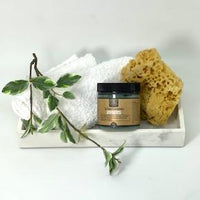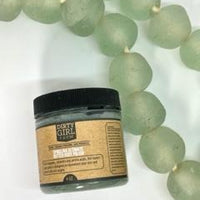 Spirulina Ultimate Butter Body Polish
Full of the ultimate of vitamins, minerals and amino acids, this SUPERFOOD butter body polish is designed to rejuvenate your skin and leave it soft and supple.
Your skin will feel unbelievably soft, supple, and deeply moisturized after even one use!
This polish delivers chlorophyll, B vitamins, beta-carotene, Provitamin A, lipids, active enzymes, essential amino acids, nucleic acids, plus DHA & EPA fatty acids
Shea, Mango, Avocado, and Kokum Butters nourish the skin and leave skin feeling silky smooth.
Rosehip Seed Oil, Sweet Almond Oil, and Avocado Oil hydrate the skin and add lovely glow.
Ingredients:
Fine Sea Salt, Organic Shea Butter, Sweet Almond Oil, Organic Cocoa Butter, Grapeseed Oil, Kokum Seed Butter, Mango Seed Butter, Avocado Fruit Oil, Avocado Butter, Apricot Kernel Oil, Organic Coconut Oil, Epsom Salt, Vitamin E, Sunflower Seed Oil, Organic Neem Seed Oil, Organic Rosemary Leaf Extract, Organic Sunflower Seed Oil, Organic Blue Green Algae, Organic Evening Primrose Oil, Rosehip Seed Oil
Dirtygirlfarm.com offers FREE Standard Shipping on all U.S. merchandise orders (excluding taxes). Orders over $60 always ship for free—no promotion code needed. Free shipping is available to all U.S. territories on orders over $100 ($50 dollar threshold for Puerto Rico). FREE Standard Shipping orders are processed within 1-3 business days, depending on product availability. We cannot guarantee a date of arrival with our free ship option and orders typically take 1-7 business days to arrive once they have been processed and shipped out. 
We ♡ our planet 🌎
We use biodegradable, non-toxic packing peanuts in EVERY box we ship! These packing peanuts are made from cornstarch and completely dissolve in water.  They can even be safely tossed into your compost pile!
SHOP AROUND
Your product's name
$19.99
Your product's name
$19.99
Your product's name
$19.99
Your product's name
$19.99
Your product's name
$19.99
Your product's name
$19.99
Your product's name
$19.99
Your product's name
$19.99
Your product's name
$19.99
Your product's name
$19.99
Your product's name
$19.99
Your product's name
$19.99
Your product's name
$19.99
Your product's name
$19.99
Your product's name
$19.99
Your product's name
$19.99
Your product's name
$19.99
Your product's name
$19.99
Your product's name
$19.99
Your product's name
$19.99
Your product's name
$19.99
Your product's name
$19.99
Your product's name
$19.99
Your product's name
$19.99